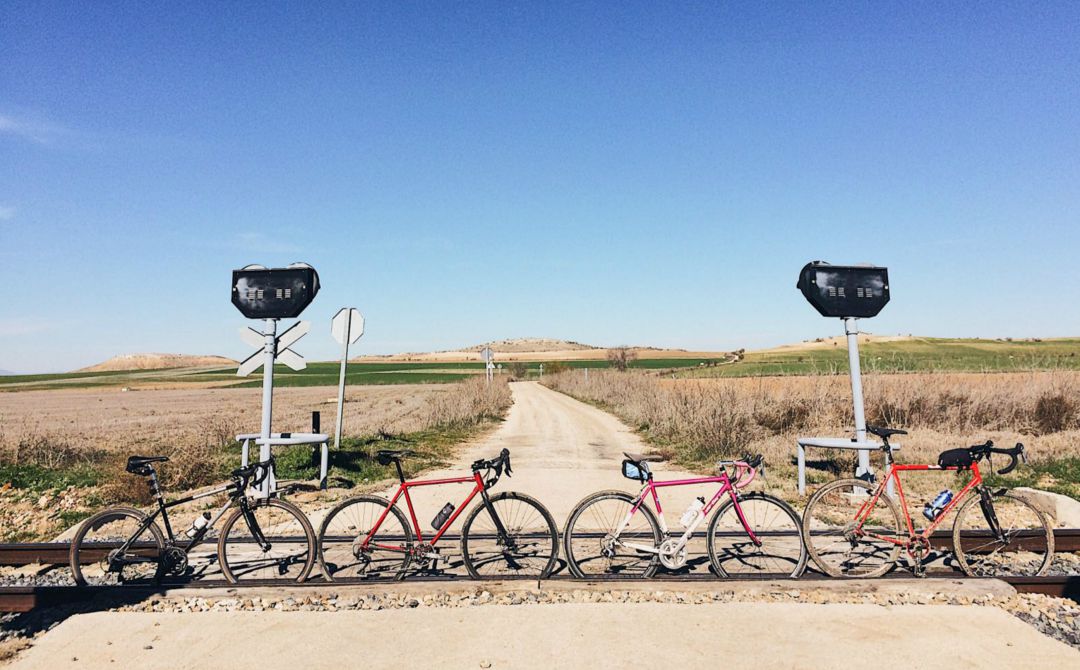 As I climb up the gravel road it gets rockier. We've been in the saddle for over five hours. We're out of food and water and far from places with people. At the top of the dusty climb I make out the silhouettes of my friends who are also the only people who truly understand how desperate I am for liquid and a different body position. They are doubled over their handlebars—waiting for me, letting gravity pull their necks to towards the dirt. The breeze whistles over the empty highway in front of us—our dirt path lies just on the other side.
Fernando, a bike mechanic and the dude who proposed this hellish route from Madrid to Toledo, offers me water. Between pedaling and coughing, I suck up the last drops of his bottle and the last of our water until Aranjuez. He shouts at me for bacteria-ing up his bottle but grins and nods his head when I tell him that we can't afford to lose a drop. We ride together in silence while occasionally flipping a rock towards each other from under our tires.
Last night Fernando advised us to bring lights and bocatas, sandwiches, neither of which implies a chill day in the saddle. This warm winter adventure starts early for our standards. It's 9am and our fingers remain stiff from the cold while our foreheads glisten with sweat. Getting to Toledo means a mixed bag of terrain—from single track, to trash pit, to smooth gravel. We are cruising over crunched up concrete to churning through straight sand. We go under and over the highway, through and around pueblo after pueblo. We pause in plazas to fill up our bottles while resisting the urge to join those sipping on coffee and wine in the sun.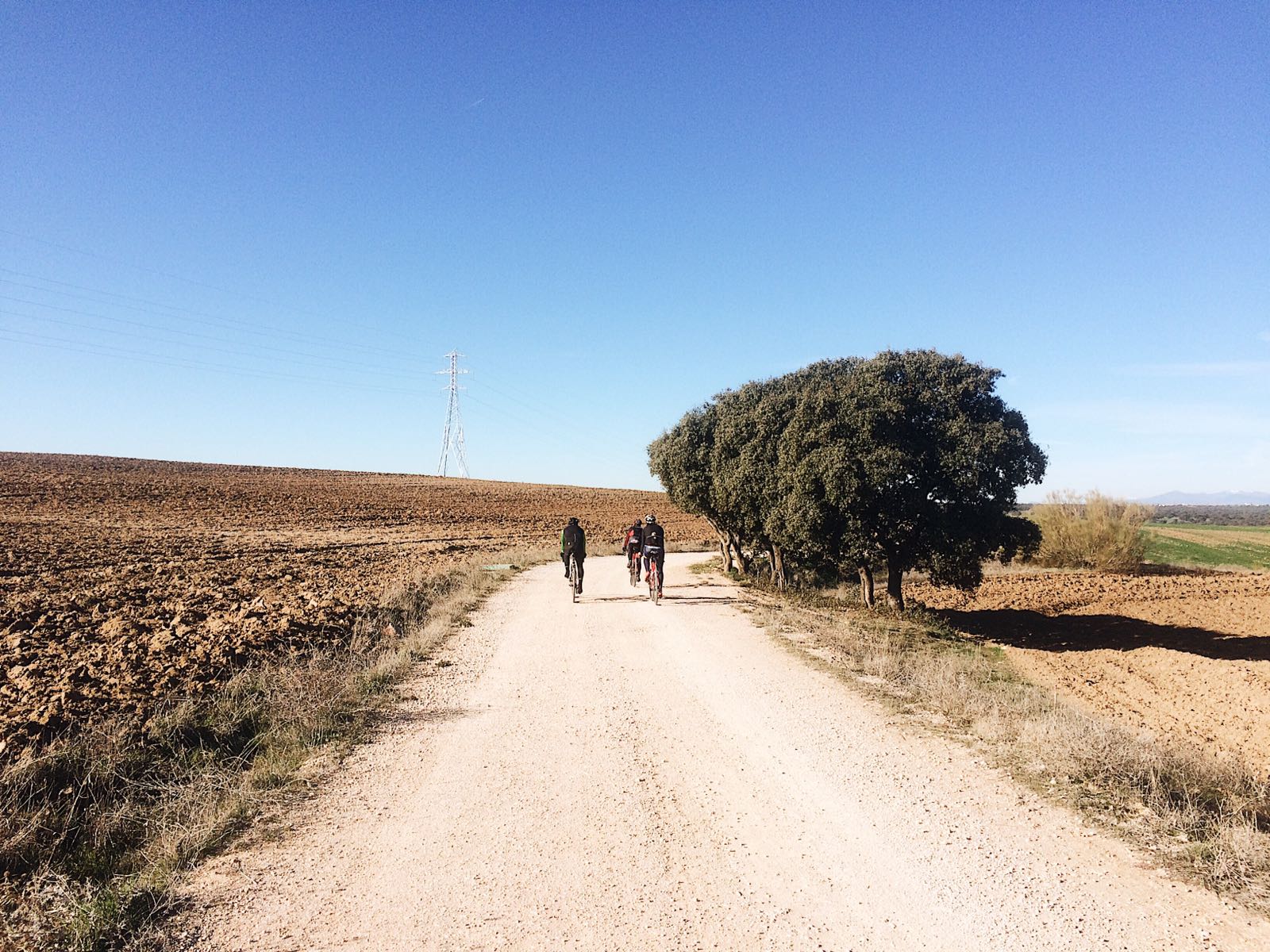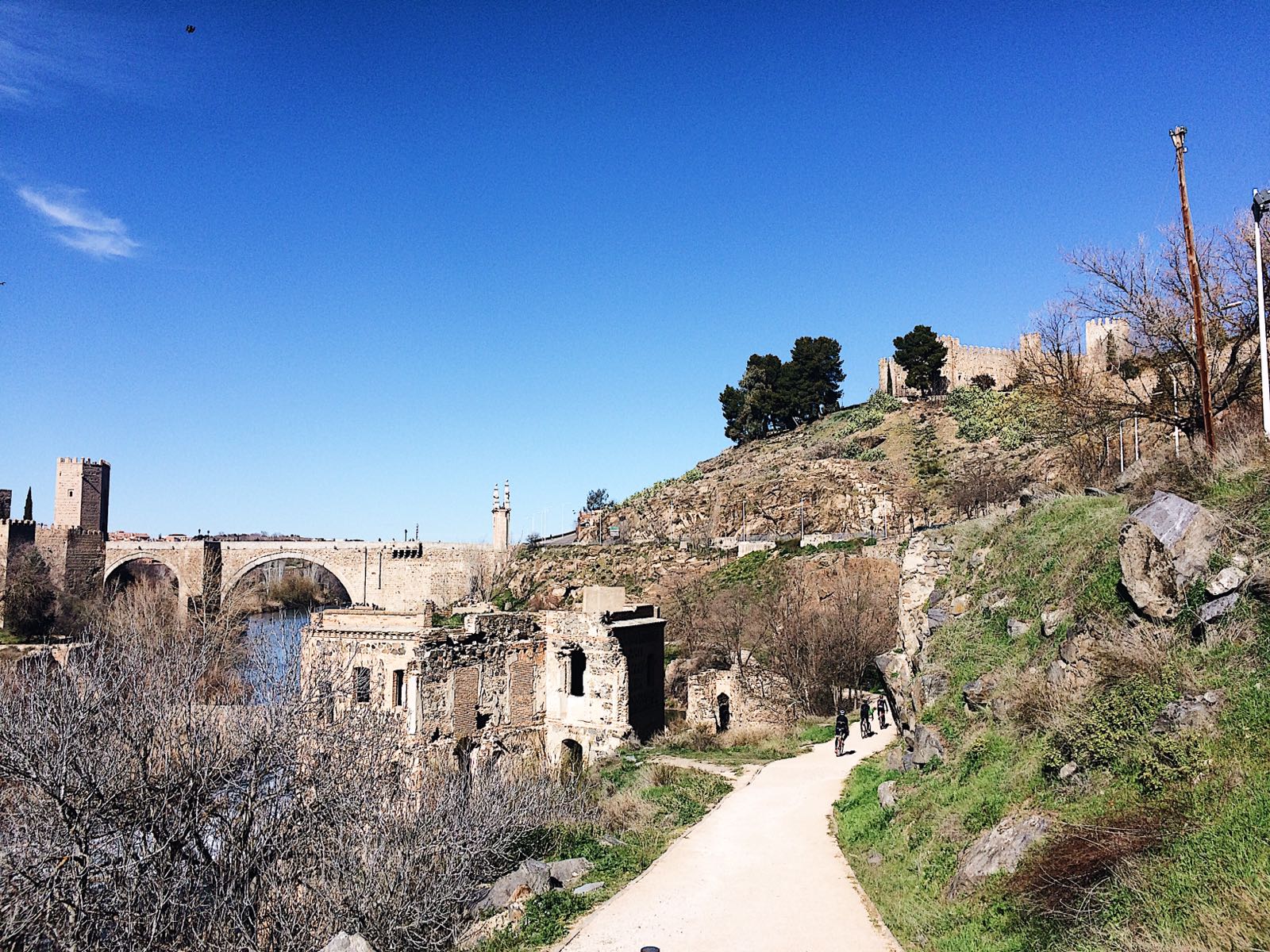 We fly through fields where vibrant green fields reach turquoise skies and then dive into groves of olive trees—the underside of their leaves glimmering in the sun. We're in a Spanish Microsoft screen-saver, but on bikes. A field of onions slows us down as we breathe in their sweet smell. We grin as we descend over red rocks, weave around dark roots, and splash through refreshing puddles. We arrive to Toledo. It's an old and intricate city built on a hill with a river running around it. It's stunning but we're stoked and we think we're almost home. "Everyone's legs are still good, right? Let's get to Aranjuez and have a fat meal," suggests Nacho, another bike mechanic and gravel warrior. We press forward on a lovely marked trail from Toledo to Aranjuez, where we will catch the train to Madrid. A harsh headwind makes way for early onset hunger. The first sign says "38 kms. to Aranjuez."
***
The last five kilometers are paved but still painful. Diego and I have been dropped—we're pulling into the city relieved and starving, Diego's more ravenous than the rest of us. His diatribe consists of name calling—"¡Los hijos de puta, cabrones! How could they have passed two gas stations and two bars when they know how hungry I am?!" We roll up to the café where Nacho and Fernando's bikes rest outside.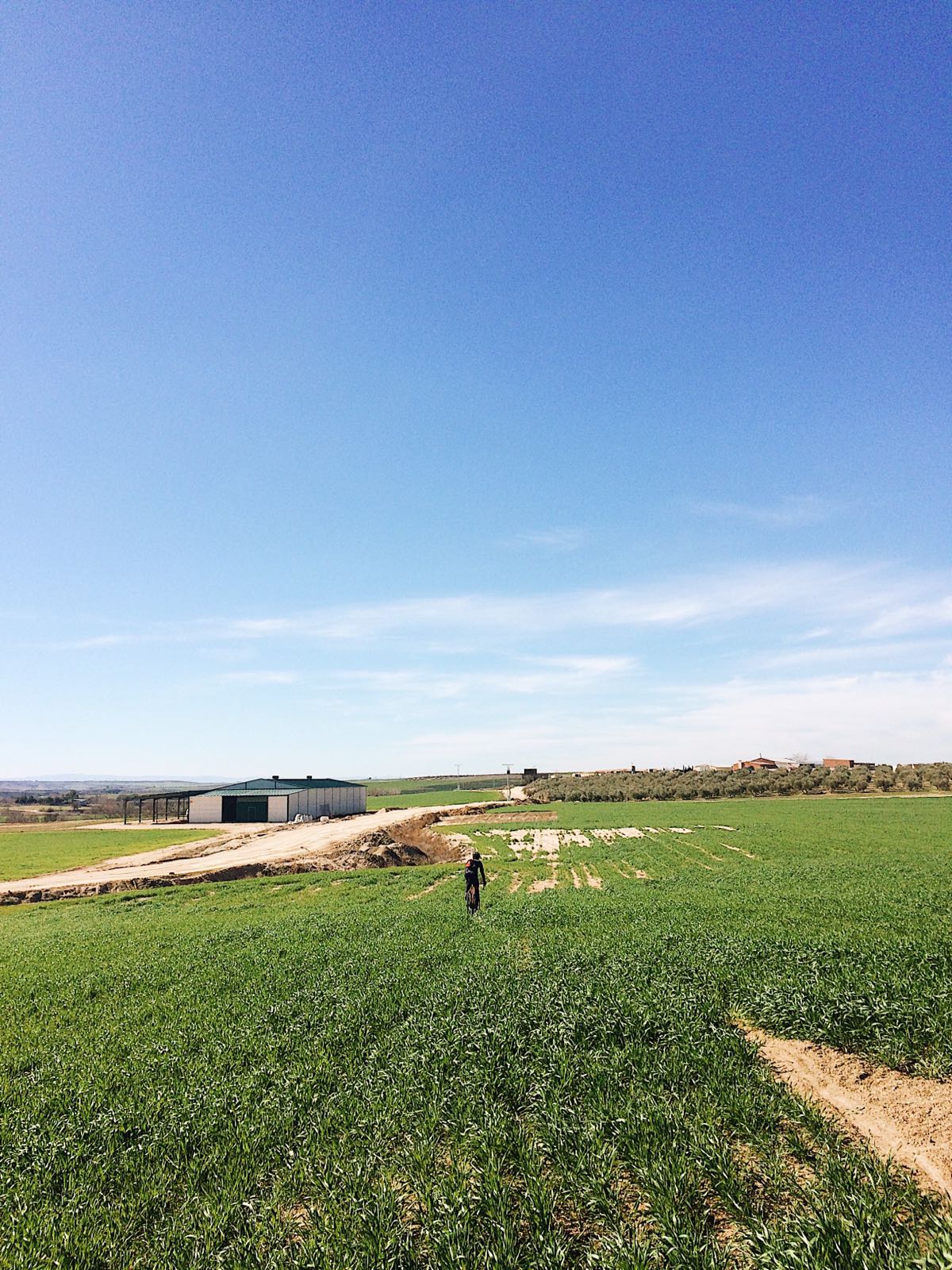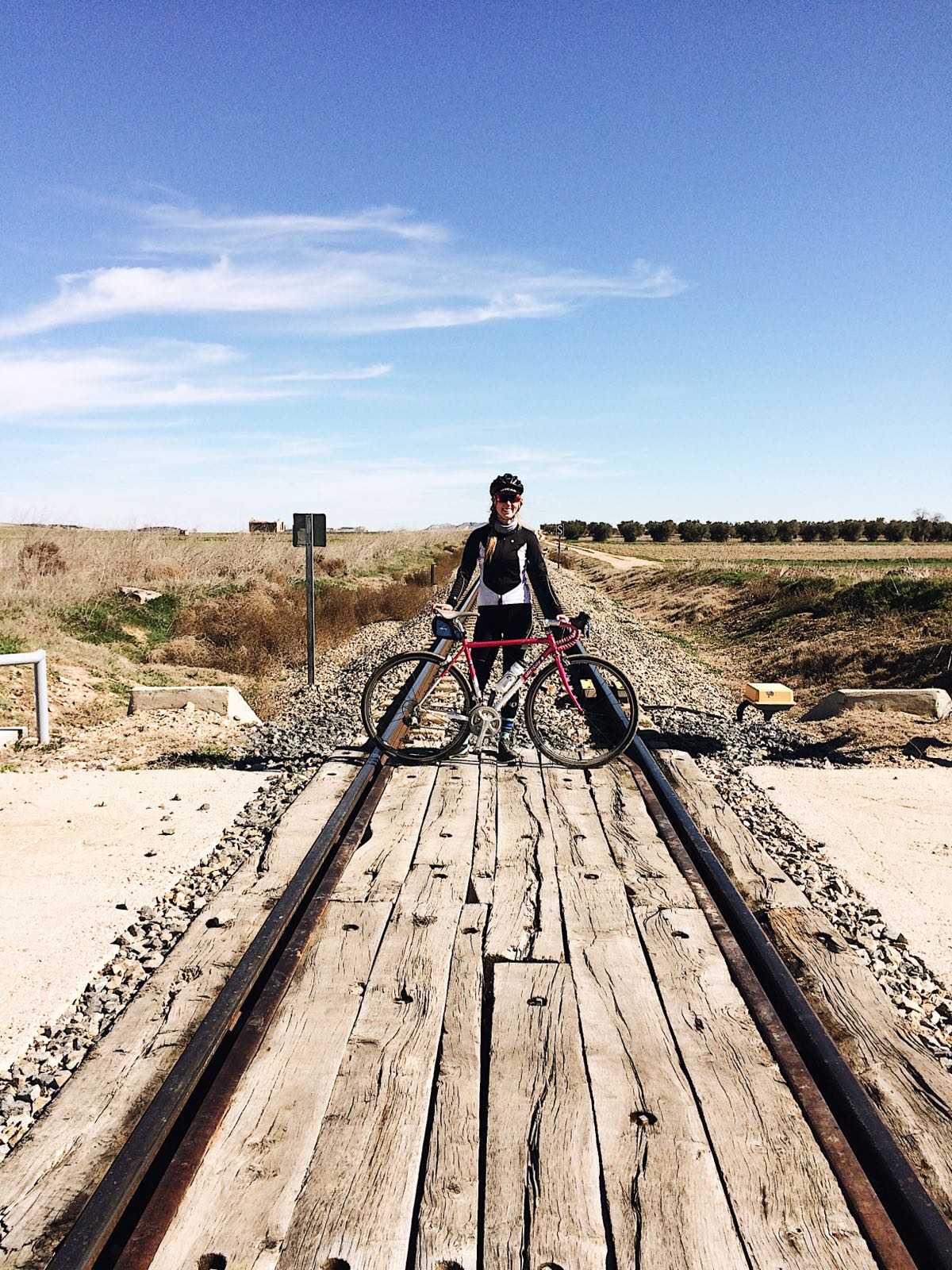 Diego shoves his bike against a wall and rushes inside to order two Cola-Cao's, hot chocolate, a Coca-Cola, and an old newspaper to shove between his jersey and bibs. He's hangry, hungry and angry, and has no regard for the rest of us who seem civil in comparison. We chomp while Diego inhales and gets up to order more. We're fed and everything feels fine until we stand up to catch the train. On the train ride home, we release our feet from dusty, crusty shoes and slump into plastic seats. The sun slowly sets frame by frame through the train window —and our bikes sit close, tangled and tired.