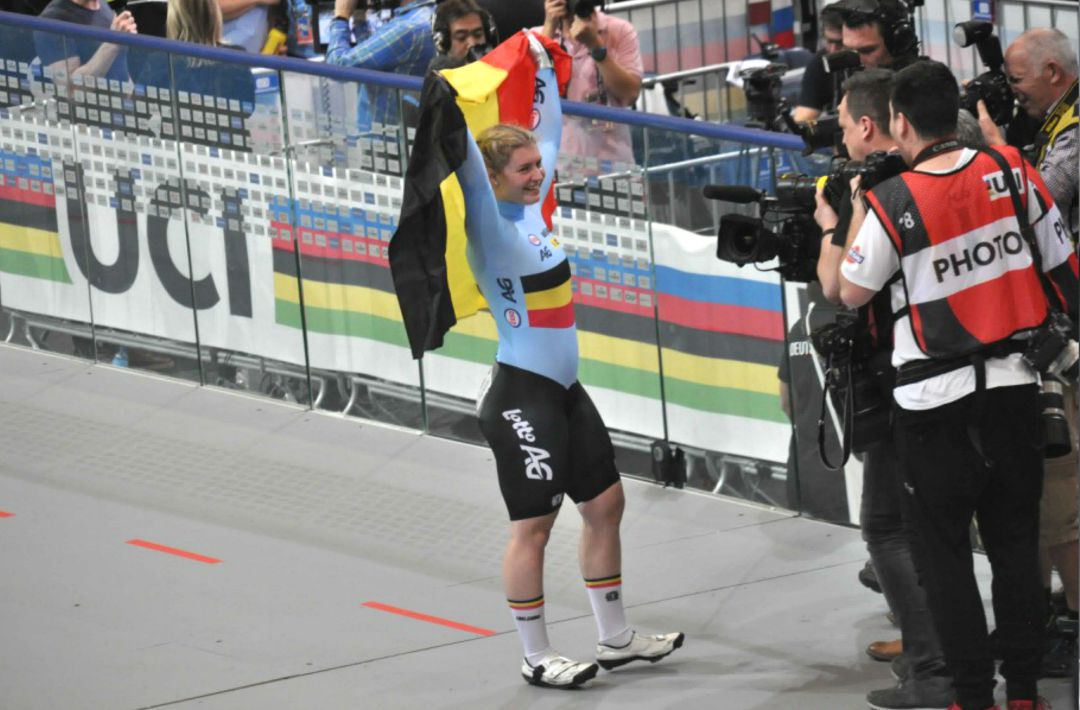 How has your life or career changed since you became World Champion?
My life hasn't changed at all since I became world champion. Of course, there are people that recognise you and make you to talk about it but that's just once in a while. I think for every athlete the World Championships are one of the goals on their lives. You always want to be better and do it better there. Realising this World title for me it's really strange because I'm one of the youngest girls around the track and I am competing with women who have been to Olympics Games once, twice or multiple times. It's crazy to know that I became World Champion.
What did Kristina Vogell tell you after your victory in Apeldoorn?
I don't actually remember. I think she said: "nice race, you deserve it". She was obviously disappointed with her own race, but she was there at the moment when I got off my bike. It was just the perfect time to have a short talk because in the end the media is there, but the moment you are in, just coming off the bike, it's good to chat with the other women.
Given her current situation, did you get any new from her or did you send her any message?
Everybody is very worried about her and on a daily basis I ask the people around me if they've heard anything, or I look up on the Internet. I already sent a message to her people and to her teammates but they couldn't say anything, so the current situation was not really updated. But the one thing I do know is that I hope for the best for her and I hope she's in good care. I don't know how to say… It's really painful to think about it. Not just for her but for everyone who races. This is a very emotional time and it's really hard to think about it because that's another way of knowing that when you get on the track anything, that you don't wish to anybody, can happen. This is the worst that can happen. So, I just wish her a really good recovery and I hope that she gets better soon and that she can get well. In this moment the bike is not the most important thing, but life is. I hope she can still have a life and fully enjoy it. And simply just live.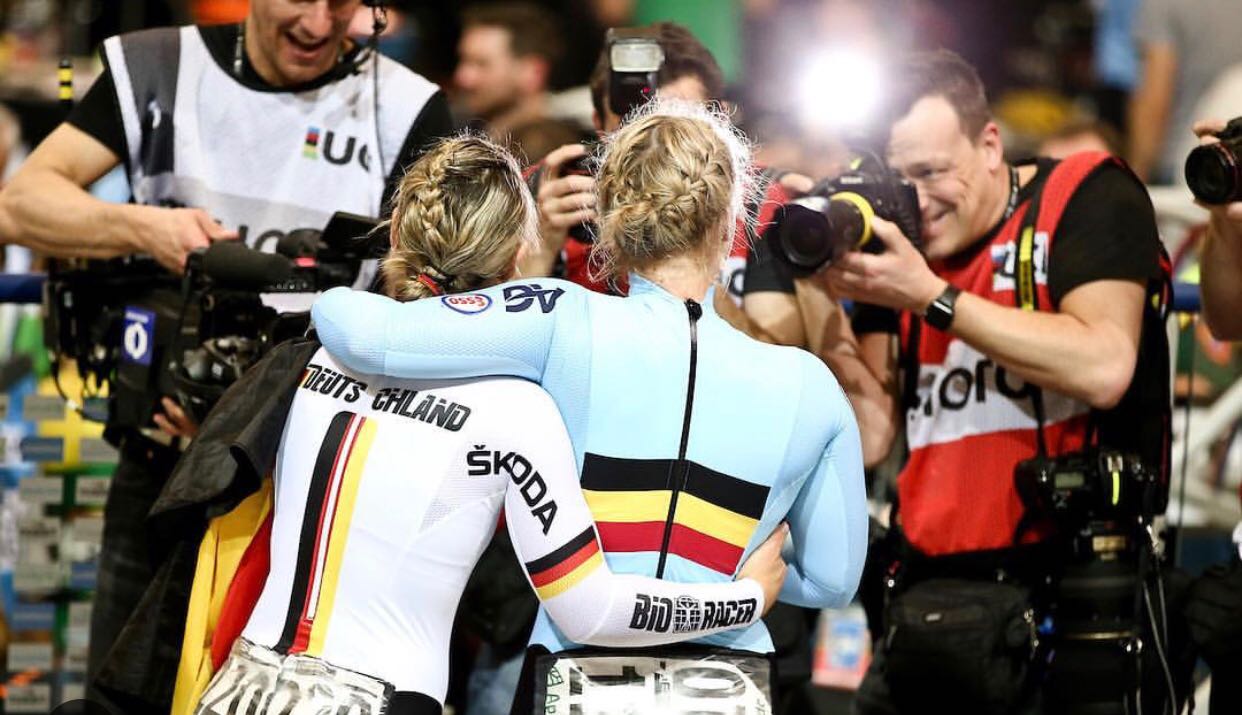 Kristina Vogell and Nicky Degrendele after the Keirin race in the last World Championship in Apeldoorn (2018) (©SWPics)
How was your professional career start?
The start of my Elite career wasn't very smooth. I struggled myself during the first two months or, let's say, the first year. I wasn't used to training as much as then because I had it fairly easy as a junior. So, when I came to the Elite level I had to train a lot more and that was hard at times. But I think going to the UCI World Cycling Center was the best thing for me. To actually get into a program and train how I should. That was the start of something good.
How did the UCI World Cycling Centre opportunity emerged?
It was December 2015 when I had a conversation with one of one of the coaches of Belgium and he suggested that there could be an opportunity to improve there, in Switzerland. We had a two-week holiday in April so they wanted me to try out there for a three-week trial. I think they had contacted them (UCI WCC) for advice and then they just said: "she can come out in". And that way I went there for three weeks and I felt like that was the place to go to. Then I went back in August for two months.
How important has it been for your ongoing career development, being part of the or training in Aigle at the UCI WCC?
It was a really good time for me. I met a lot of great people. I found myself after living by myself for the first time. I grew up a lot, I matured there a lot. So, it wasn't just great for cycling. It was positive in all respects, not only I got to improve but also, I got to find my way in this world. I started liking cycling again, because after my bad performances from the year before I kind of didn't want to do it anymore. It wasn't that I did not want to do it anymore but I didn't like it that much anymore, I wasn't enjoying it. There I felt like everything was falling into place. Everything was really good.
In terms of program, how many months or weeks do you expend during the season in Aigle at the UCI WWC?
I've been there on and off for a year and a half. Since the end of November, I went back to Belgium because the roof was damaged and I couldn't train on the track. So, there was no reason for staying there. But it's been a bit difficult since then as I had to go and leave my coach there. That meant I had no coach coming back to Belgium. So, since January I've been doing my stuff.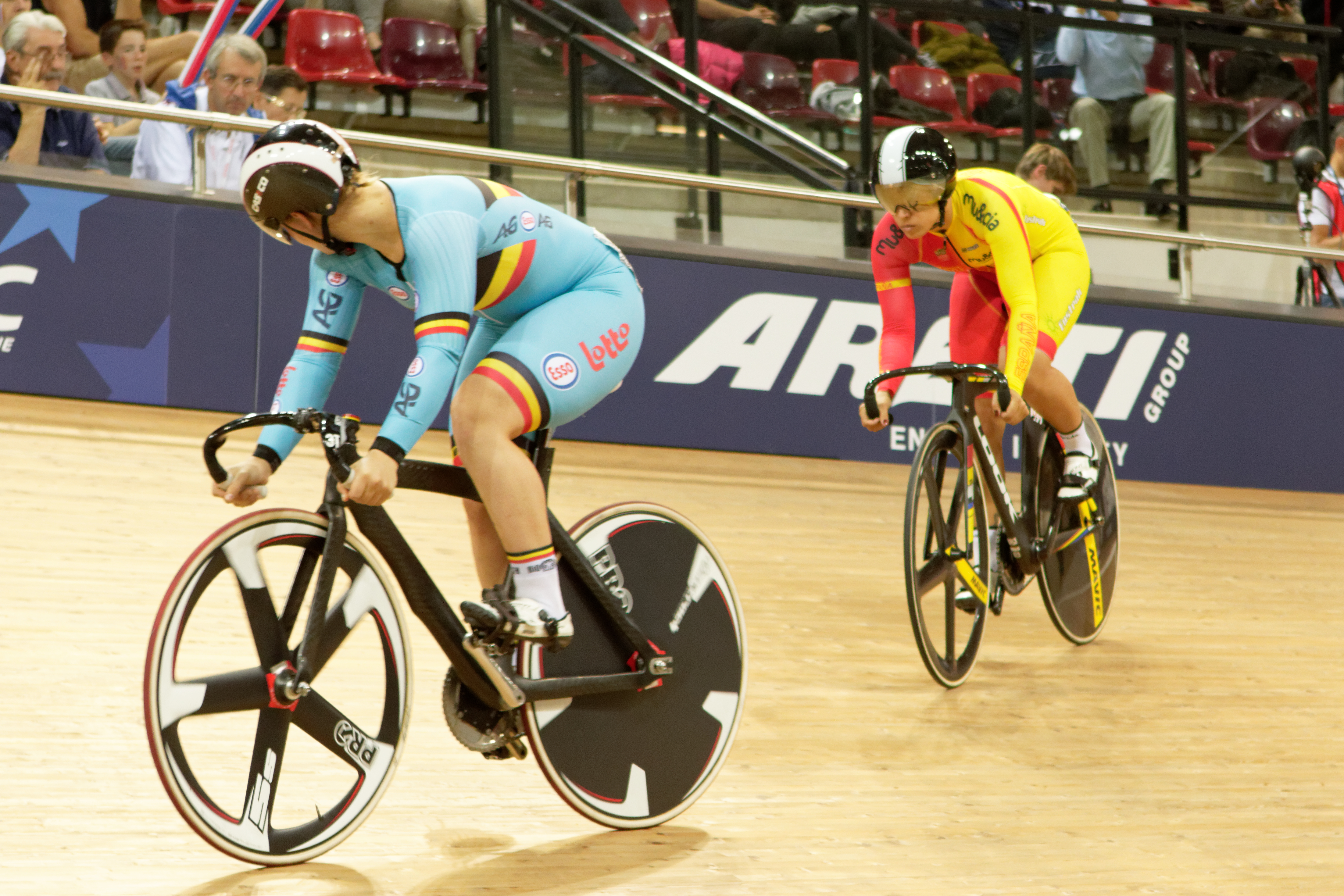 Before heading to the UCI WCC in Aigle, you faced a tough time, struggling to make it to the professionalism. That was the time you couldn't qualify neither for Rio Olympics nor to some big international competitions. During that time, who did rely on and how did you deal with it?
I think after getting a lot of wins as a Junior, it was really hard to transfer to the Elite category and realizing that sometimes you are not able to even qualify for races or race anymore. So, I guess that's the moment when I only wanted to get better and train more and more just to make sure I could be on the top step again. I relied on my family a lot. But in the end, the only person I could actually rely on it was myself. I knew I had to do it. I was the only one that could change anything. So yeah, I worked for it, but also achieved what I achieved by doing it myself.
Overall, the UCI WCC was a turning point in my career and the following season was thrilling, amazing. You know, I was competing against a group of women that were just coming out of a resting period and they may have taken a good break after the Olympics. So, not everybody was the best they've could. I think that was good for me to start with. It gave me a bit of confidence, the confidence that I need to believe I was still able to be on a podium. Once I got that, I realised that I would have to work more and harder to get more medals and podiums and that's what I did.
When you are in the waiting area without the tinted visor or glasses, while the cameras are recording you, do you feel the pressure?
Not at all. I don't mind the cameras and I don't feel any pressure. Of course, you want to be the best out there and you want to win. But I just enjoy it a lot. I think if you ask any of the other girls they will tell you the same, because I am probably the most annoying girl in the court. I am always so enthusiastic and very cheerful. I am constantly talking which people and sometimes they don't like it. It was an amazing experience and I enjoyed it a lot. I don't feel nervous there.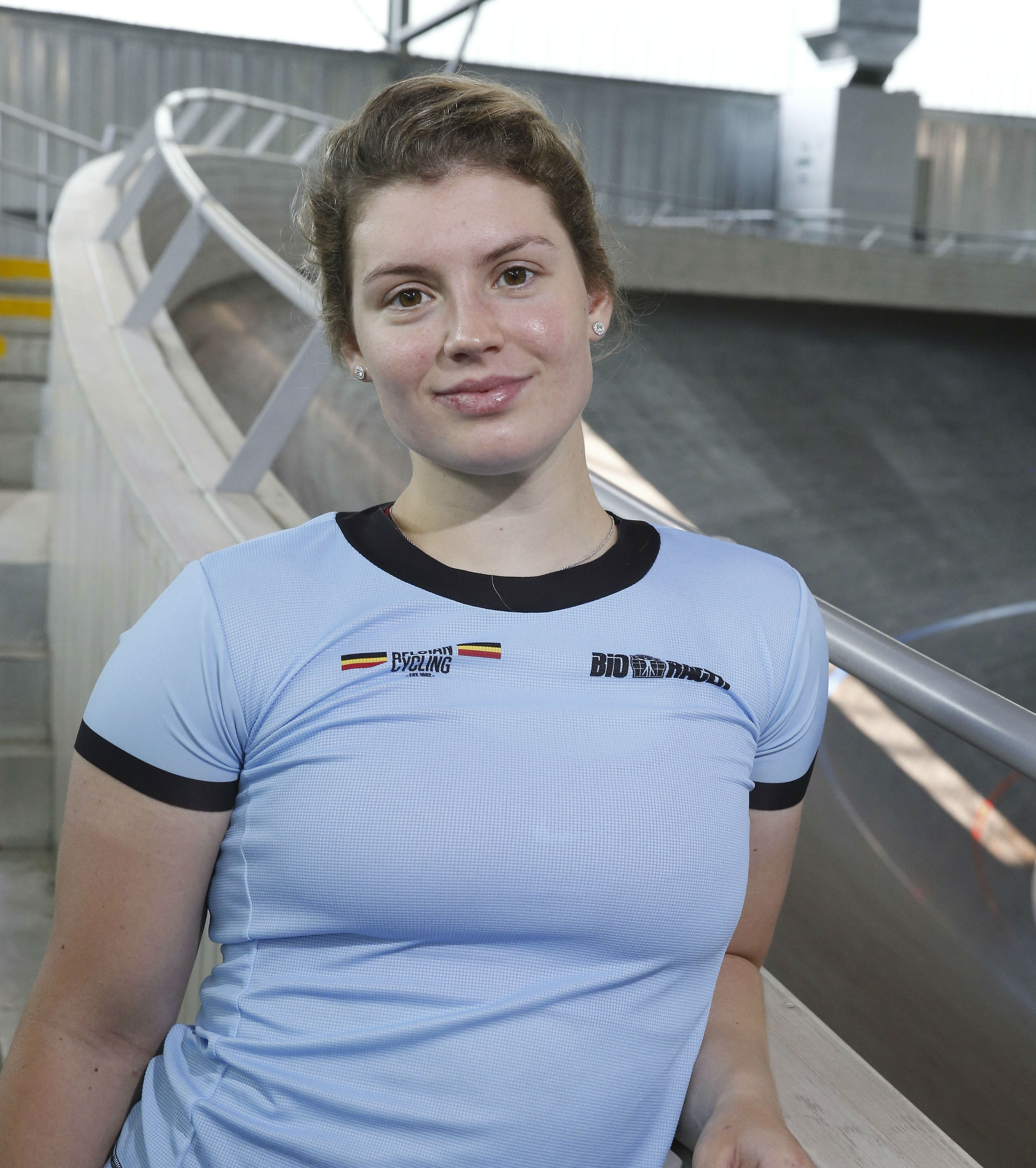 Belgian track rider is one the main member of the National team (©Belga/Cordon Press)
What goals are you aiming for during the Olympic qualification period and what are your ambitions towards Tokyo 2020?
For this next season I just want to get stronger, better and faster and to get better in Sprint. But I want to enjoy it as well and be the best I could be. Train harder every day. I know I can make it. I think the main thing it is just taking every day as a new challenge and work hard. And if I have to speak about results I'd say I want to get a medal again at the World Championships because there's no feeling like that. It only lasts five minutes but it's a great feeling and I want to be there again. That's one of the goals for the next year. I also want to do really good at the World Cup. But well there's six World Cup rounds so I have to still decide which ones we're going together with the federation. Then towards Tokyo Olympics, it's a long way. It's going to be there soon enough but it's two years and I think in two years' time I could still progress a lot get stronger and just work for it. Of course, you go to an Olympic Games with the intention of claiming a medal, I wouldn't go for less. That's what I'm going to work for.
It is already a tradition, that some of the very best sprinters at the end of UCI track season, or just before the start of the next one head to Japan to compete as part of the Japan Keirin Association annual invitational program. This season you've joined Natasha Hansen, Stephanie Morton, Laurine van Risen and Mathilde Gross.
They asked me if I wanted to go to Japan before I became World Champion. And obviously that's a dream of every girl racing Keirin. So, I said yes straightaway.
How did it unfold?
The 21st of April I left Belgium. We stayed in Tokyo for the first night with the other girls just getting to know each other. The first week was most of the time going to classes and learning about the Keirin school. It was a really busy time because we had school in the morning and then training after that. So, those were really long days. That was kind of good because you just get to know the people, you get to know where you are, the place you stay. It's amazing just to get into it like that. So, we went to school for a week and a half to learn about it and to assemble and disassemble a bike.
Interesting
By that moment, the experience on itself was already impressive and it was a great adventure too but then the actual adventure was about to start.
We stayed after school and just after we had exams we had our first race straightaway. It's actually really spectacular. You go into the lockdown and when you go to a race, people recognise you and everyone is very friendly. You just come into a place where the only ones you can talk to are the other women or the staff you have with you, so a translator or a mechanic. It's very nice because lockdown is just three days of focusing on a bike, and it was also good place to get some sleep because I had a very hard time with my jet-lag. But also, the first time was quite hard because I missed my family and friends so that was quite hard. So, I was looking forward to the last day of racing. But the racing itself was also very nice, to get this experience in and get to know the people and their culture and racing at midnight. I was it was all very educational, a great experience and adventure.

What are the main differences with UCI Keirin?
The main difference between UCI Keirin and Japanese Keirin is that Japanese Keirin is two heats of seven women. So, in total, over three days of racing we are fourteen women. There's another thing, at the start you have to fight for your place behind the motorbike or derny with any women while in the UCI we have to follow the order of what we got on the line until the motorbike pulls off and you have to ride by yourself the last three laps.
Another big difference is probably with the mens Keirin, as we weren't allowed to touch. If you touch someone or you make someone crash you get a jiujiu or a shikaku. A jiujiu is a warning while shikaku is a disqualification. Luckily that didn't happen to anybody so, it was really good. The men can touch although they cannot actually make people crash but they can touch and block them, which you may have seen from a few races. And they can also team up.
Riding outdoors, how is racing under the rain at midnight?
It's pretty amazing racing under the rain, I enjoyed it a lot. I don't know why, but it was impressive and I actually won that race so I really liked it. It was not hazardous, there were no slips. I think a few girls were scared about the rain. But I don't see why because these tracks are so gripping that you won't slip down or have a crash and it was really cool.
I think there's only about two or three indoor concrete tracks, I went into one, to Kokura Keirin Velodrome. I was the only one who actually went to an indoor one but all the rest are outdoor tracks.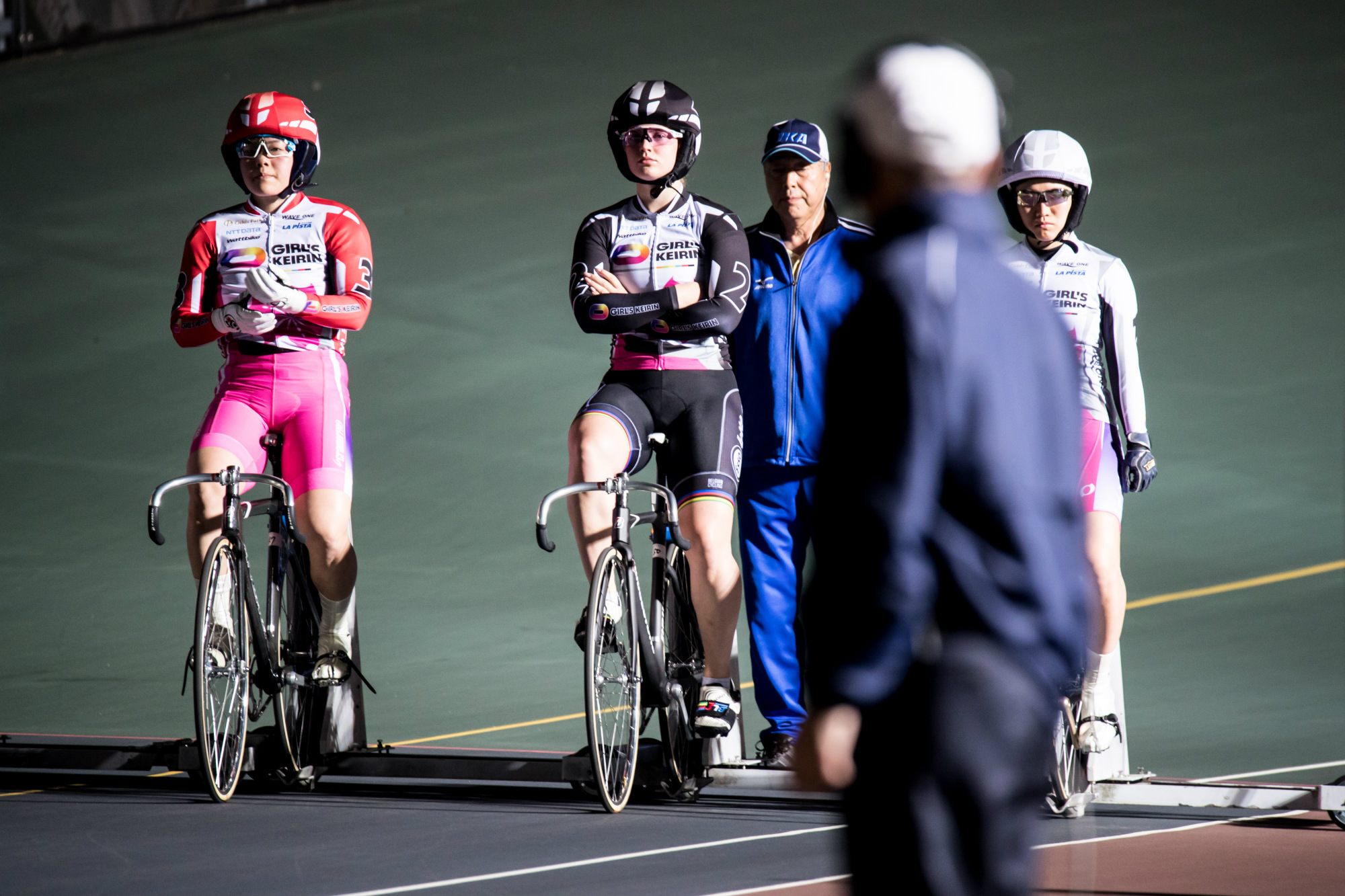 Degrendele spent few months in the Japanese Keirin leage during 2018 (©Cadence Magazine)
Did you get the title of master in Keirin?
No, we were there for a short term, they call it registration. We had classes over a week that just covers the two months of races we did there. As we don't have Japanese nationality we can't go to the Keirin School and apply. That's an 11-month education and then you can compete at the big races but we were only allowed to do five races in total.
Before the derny pulls off and the real thing starts, how do face those final meters?
I look at a race while I'm racing it. Every race is different, in every race you have to see how it goes because there's not really one like the other. You really know who you are racing against because you're normally racing against them and you know who's the strongest. So, you look at how the race is going and once you feel the right time is there, then you just go for it. That's how I do it anyway.
Is there any time during a keirin race that you wonder: Should I stay or should I go?
Sometimes… There is time to think. But you also have to make quick decisions. So, your instinct is key, you do what feels good. That's how I do it. There's nothing wrong with following your instinct and if you made a mistake then it's just a mistake. Then you have to learn from that and you have to know what you've done wrong. To make sure that doesn't happen next time.
In lucrative terms, how are things in Japan for women's cycling? Is there a parity of prices between men and women? Did you get decent prizes, salary or were paid to race?
We had prize money so that was very good for the trip. Though the prize money is not the same as the men, men earn a lot more than women still. And I think four times a year they have a Grand Prix and that's where they the big money is. I don't really know how much it is but it can go to a million euros and that's quite crazy. So I think four times a year they have a big race and then once they have another even bigger race and that's where they big bucks are won. And the women do have a few big races Grand Prix as well but they earn a lot less than the men.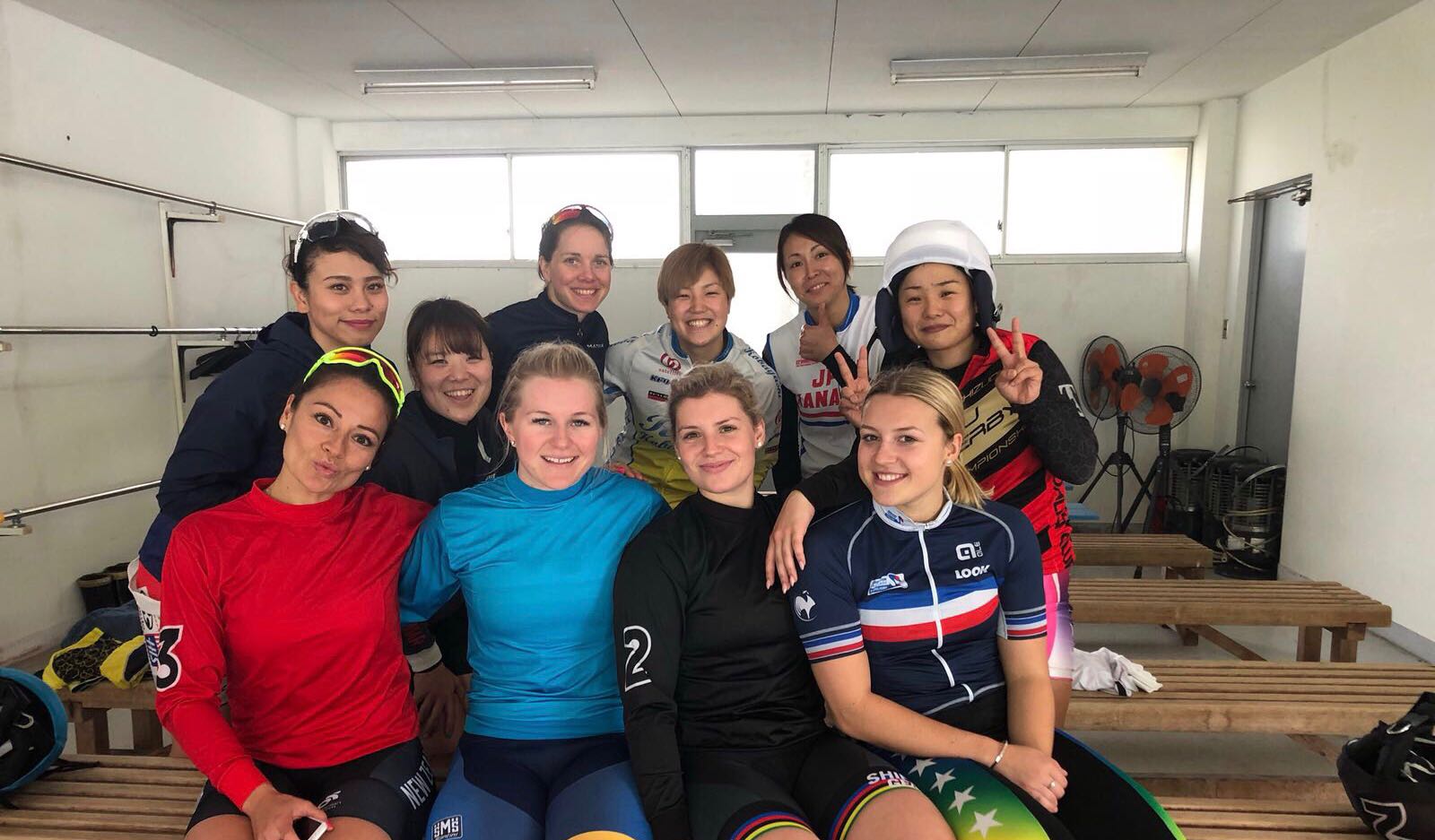 In Japan next to other cyclists (©Nicky Degrendele)