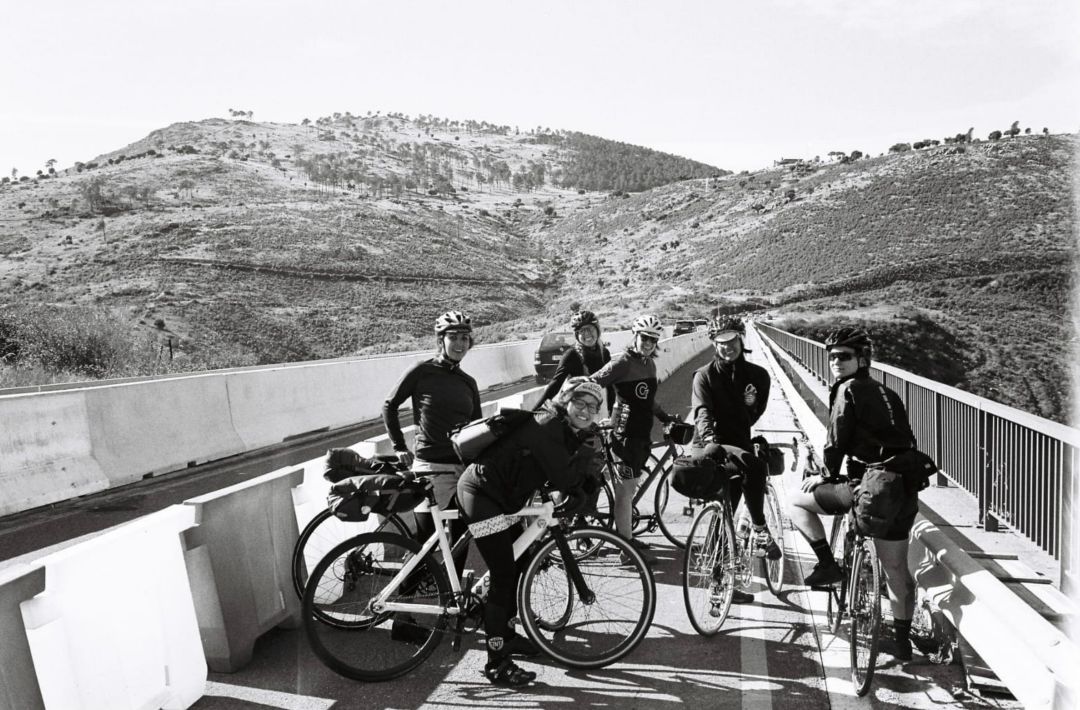 We take a train from Madrid's busy center to El Escorial, a northern pueblo. We're 7 women: 4 Americans, 2 Brits, and 1 Spanish. We're mostly foreigners finding our place, challenging culture, stereotypes, ourselves. Although our friendship remains fresh, our odd, parallel lives provide an unwavering base of love and understanding. We're women, cyclists, commuters, messengers, mechanics, and strong. We're going from Madrid to Salamanca, Spain by bicycle. On the train, our bikes stack and hang—handlebars crossed, pedals between spokes. Our bodies mimic our bikes' closeness—legs across laps, arms wrapped around each other.
In El Escorial, we seek coffee and then clumsily make our way to the highway—only having to traverse one fence along the way. What starts as a false flat quickly turns into swooping, steep, switchbacks. The giggles fade and we all begin to internally take inventory of what we're carrying on our bikes and backs. We break off into partners who pedal at a similar pace—encouraging each other and cursing the climb. Cheve, our fearless Spanish leader, and I manage to make it up first. We prepare our cameras and our pride. Jennifer struggles up the final slope and shows up pale and peckish. We shower her in worthy praise as she's the only one on a fixed-gear bike. Little do we know, we've just completed the most challenging segment of the trip; however, the countless kilometers ahead leave space for doubt and discomfort.
We stopped for food in La Cañada. Ruth, one of our adept "Manchester mechanics," notes how the town's name "is like Canada with a squiggly on the N," she concludes while chuckling at herself. There's only one open bar, "Casa Paco." We enter gang-like and giggling to be met with a room of older, male hunters decked out in camouflage and suspicious stares. We've become the elephant in the room, but we're together and hungry. Six bocatas de tortilla francesa con queso y tomate, six Coca-Colas, two raciones de patatas fritas. An ex-guardia civil (police) friend pops by to catch up with the hunters, to pass us the photos, and to offer some unwanted affirmation. We encountered him shooting photos of us on the side of the highway as we climbed up a curvy road. Camera covering his face, he stood next to his red Vespa loaded up with logs. He's got grey hair and a big smile. Most of us find him uncomfortable and out-of-line while some endearing. We come out of the bar with full bellies, unsolicited professional photos, and a desire for a different, perhaps more open-minded pueblo pit stop.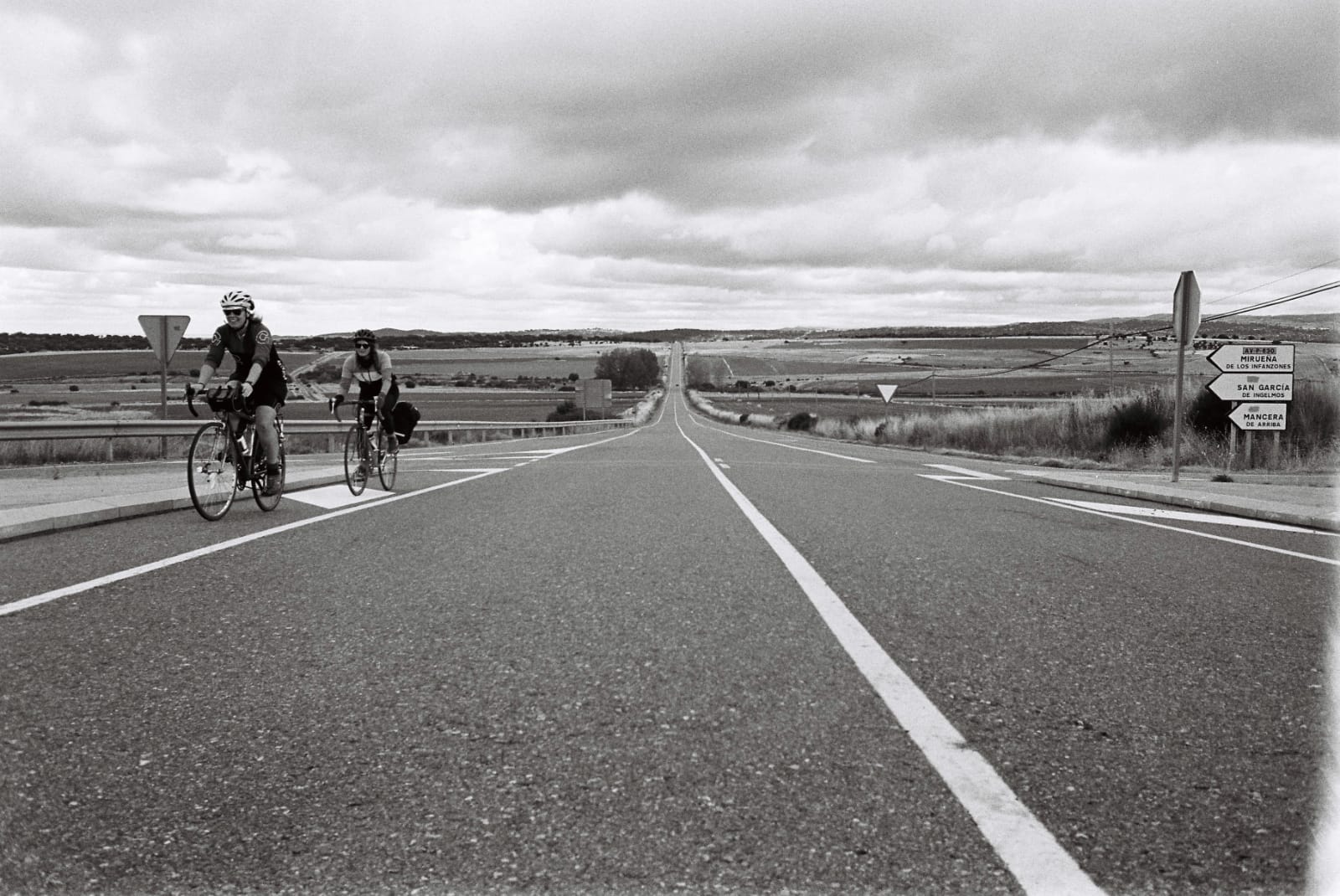 My best friend Lily, an American who I met in Madrid and recently moved to Northern Spain, meets us in Avila by train. She purchased her bike 8 days ago and hasn't mastered wheel removal quite yet. Her helplessness and sparkly personality mean she makes a lot of friends along the way and arrives with a slew of stories to tell. We call her upon entering Avila's castle walls, "Dude, do you want us to come to the train station to help you put your bike together?" offers Amy, our other masterful "Manchester mechanic" who took the overnight bus from Barcelona to bike with us. "Naw! Don't worry I'll just meet you guys at the Airbnb. People in Avila are so nice! Can't wait to see you!" Lily cheerfully responds.
We shower and share suffer stories from the first climb out of El Escorial. Pam, commonly seen around Madrid with her sidekick, a basset hound named Julieta, divulges her motivational method: playing songs in her head while pedaling. Her go-to tracks are "Push it" and "This is how we do it." Forty minutes later, we're showered and the doorbell rings. We all flock to the door eager to see what state Lily and her bike have arrived in. The bike is in pieces. She's entangled in wheels and Saran wrap and her still unassembled bicycle. It's hard to tell where she begins and the bike ends. Her arms will be sore well into the upcoming week yet all she does is rave about the kindness of Avila's strangers and the help they offered her. We seek pizza just outside the castle walls—giddy about getting to bed and setting off to Salamanca in the morning.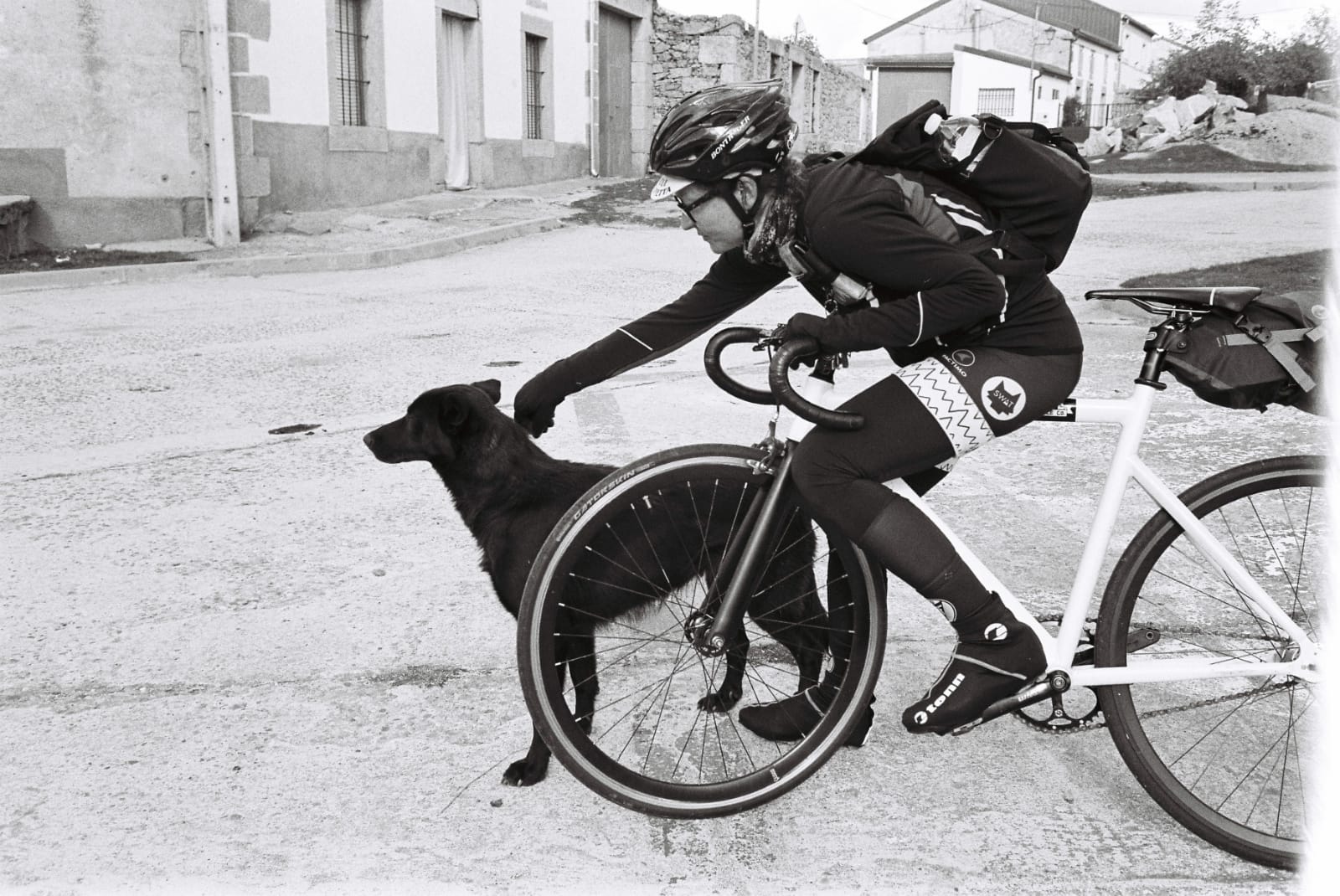 We're an army and a spectacle spinning through small "pueblos", smiling at those waiting for the bus or gathered around the central stone fountain, imagining how surprising and unusual our all-female make up and distant destination must be to them. Despite the confusion across their faces, old men with newsboy caps and canes wave enthusiastically as we pass. Sometimes they even shout "Vamos, vamos, vamos" or inquire about where we're headed. "Vamos a Salamaca," we shout and wait for wide-eyes, skepticism, or a joke about how we could just go there by car.
We pedal through pueblo after pueblo. The sun's bright and low and we seek sustenance in a gas station—taking a breather and plotting our next moves: grocery store, Airbnb, shower, feast. With tomato sauce, rice, vegetables, and cheese strapped down and shoved into remaining cracks and crevices, we push towards the golden sunset. We're almost there.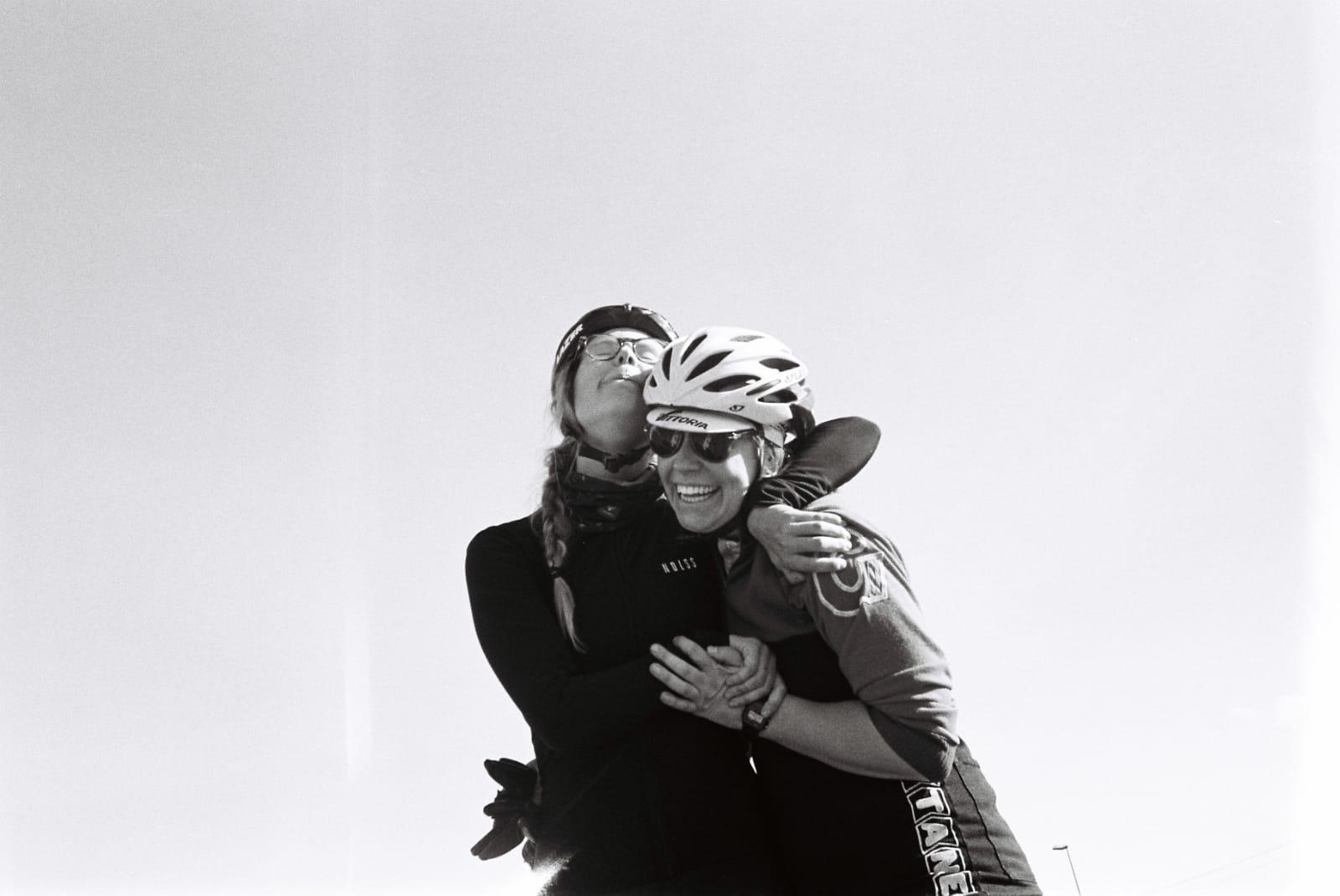 A pink grapefruit colored sunset makes our final climb feel like the yellow brick road. Oz, a pueblo called Martinamor, is far less magical. It feels like a trailer park/gated community—the kind with huge signs made of expensive material and lots of decorative columns that don't structurally support anything. The neighborhood's split in two with a big bar in between that has the word "jamón" in the name and pig hoofs as door handles. We'll be in and out of the pig hoof doors in search of wine and beer and jamón and coffee in the morning for breakfast.
The easiness of the trip thus far comes to end as we're stranded outside of our Airbnb without keys. We're a gaggle of stinky, hungry girls, with many legit/illegal ideas about how to get through the tall iron gate. A pair of the crew who hasn't let their hunger get to them quite yet explores the other side of the community to see if there's perhaps another number 33 and sure enough there is! They call and we all migrate past the jamón hoof bar to our Airbnb palace complete with showers, beds, and even a fireplace. We fill the home with stench, joy, and chaos as we fulfill our basic needs: hygiene, hunger, and heat. With wet hair and sweatshirts on, we sip beer around the fireplace, while frequently bursting into laughter with mouths full of potato chips. Ruth and Jennifer chime in from the kitchen above while cutting, cooking, and preparing a feast. Around the dinner table, we feel heavy in our chairs but light in spirit—we're close, comfortable, and contemplative.
Our pack feels different today—clean girls, fresh clothes, carefree. From Martinamor we coast downhill for 20km to Salamanca. We chat more than pedal and suddenly we're taking photos at the "Salamanca" city limits sign. We skim the major sights and seek sun and sustenance. We find ourselves in a park with jamón, queso, patatas bravas, and tortilla Española laid out in front of us. We bathe in this gleeful bubble of beer, bliss, and bonding until we must catch our trains home. We hug each other so tightly, like we're faraway family, like we've been through tough times together, like we don't want to go home yet. We de-wheel, or hang up our dusty bikes and slump into our seats, letting the train gently rock us down from our dreamy adventure. A train ride home somehow always makes for a perfect story ending, Lily messages us from her home in Oviedo, Asturias, "Guess who didn't have to carry her bike home from the train station?!"